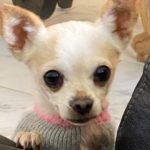 Alice~Ann was an "owner" surrender to the Westside Albuquerque shelter.  During her intake evaluation they estimated her age as 15 years old. 
She was most certainly neglected with her toenails curling into her pads, low body weight and upon checking her teeth several simply just fell out 💔
Please adopt don't shop and consider bringing a shelter senior into your heart ~ you'll not regret it.
Not all Super Hero's wear capes!  Always ask yourself ~ If not me than who ~ if not now than when. Many people stand by doing nothing thinking someone has done something when all the while no one has done anything~ Be the change.
Alice~Ann will only know love for the BEST of her life. Please consider a donation so we can continue our work.
Or if you are able,  sponsor Alice~Ann with a $10 monthly donation that helps with her food, treats, enrichment, veterinary bills and meeting all her other needs.  Thank you!