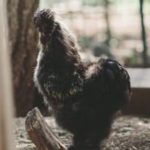 Constantine and his sisters, Fortune & Avani are the Japanese Silkie chicks.
They were just days old when they were left in a plastic bag hanging on our sanctuary gate.
Constantine is a rooster but resides in the hen coop with his sisters & other hens. 
Remember a chicken is a child, is a goat, is a pig, is a cow, is a turkey, is a dog, is a donkey, is a cat, is a horse…Animals are individuals ~ they have family and friends, they feel pain, they love, they are loved and most of all ~ their lives matter.
If you would like to help us continue our much needed work here at Santuario de Karuna, please consider a donation to us. 
Or if you are able,  sponsor Constantine with a $10 monthly donation that helps with his food, treats, housing, veterinary bills and meeting all his other needs.  Thank you!