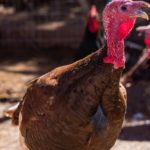 Johnny was having a rough time at his previous home with a couple of Guinea that had it out for him.
We got a request if we could take him in. Therefore he entered sanctuary here where he quarantined for a spell to ensure he was healthy and then was united with all his new brothers in the aviary, Patty's Place.
Johnny ~ he is one cool dude and we are happy he is home.
Consider becoming a monthly, recurring donor ensuring that Johnny Cash has all his favorites every month ~ everyday we ensure they have fresh greens, shelled pecans, blueberries, grapes and delicious kibble.