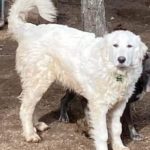 Mahalo was 4 months old when he was rescued from Glorieta. He had never been seen by a vet, so he got all his vaccinations and later neutered and Gastropexy procedure.
This not so little guy was in desperate need of socialization.  He was so scared and skittish of people.  He wouldn't even take a treat from your hand. 
Fast forward, Mahalo is now besties with Nahko and loves all the sanctuary visitors & belly rubs and loves getting treats. He is having a great time learning how to be a great sanctuary guardian from Nahko. 
Fun fact:
Mahalo arrived the same day Florence did to the sanctuary!
Thank you to all our supporters and sponsors who make these rescues possible.  You all allow us to change lives!
Please consider a donation so we can continue our work.
Or if you are able,  sponsor Mahalo with a $15 monthly donation that helps with his food, treats, enrichment, veterinary bills and meeting all his other needs.  Thank you!